Do you have a mobile app for your business? If so, choosing a correct app monetization model is key to the success of your mobile app. Here are some tips for monetizing your Mobile App: In-App Purchases, Ads, and Subscriptions.
Users are generally reluctant to pay for any application, be it for gaming or news thanks to the presence of many free mobile apps across the digital space. Let's explore diverse app monetisation strategies that are based on a user base to generate revenue from a mobile app, including in-app advertising, in-app purchases, subscriptions, and more.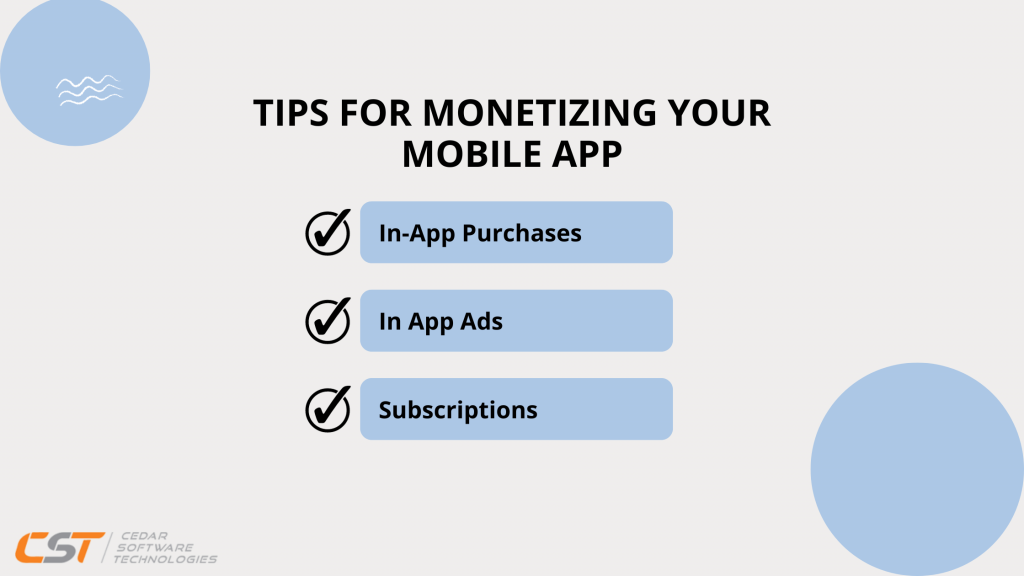 In-App Purchases:

Many free download mobile apps offer premium features or content that users can unlock through purchases.
Tips for in-app purchases:
Make sure that the items or features you're selling provide real value to users & make them attractive enough to encourage purchases.
Keep on adding new content or features that users can purchase leading to more opportunities for monetisation.
Avoid hidden fees or exceedingly complex pricing structures and clearly display the in-app purchase prices.
You should customise in-app purchase recommendations based on user behaviour and preferences to increase the potential of user conversions.
Offering discounts or promotions on in-app purchases from time to time can inspire users to buy.
In App Ads:

In-App Ads are one of among the best digital marketing strategies to monetise mobile apps which lets you earn revenue through clicks or impressions.
Tips for using in-app ads:
Placing ads in your app should be done carefully so as to be visible but not intrusive.
Try to use only targeted ads that are relevant to your app's content and user demographics as it increases the chances of users engaging with the ads.
Too many ads in the app can only irritate users. Try to implement frequency capping to limit the ads.
Consider placing rewarded video ads, where users can opt to watch an ad in exchange for in-app rewards like virtual currency or premium content.
You can use ad-mediation platforms to optimise your ad revenue by displaying ads from multiple ad networks.
Subscriptions:

Many content-heavy apps like news, entertainment, or productivity tools charge users a recurring fee (subscription) for access to premium content, features, or services.
Subscription monetisation tips:
Ensure high quality and value in the premium content or features offered through subscriptions to users.
Provide a free trial period to users so that they get a taste of what comes with a subscription.
For an extensive user base, offer diverse subscription tiers with different levels of access and pricing.
Offer subscribers perks like ad-free experiences, early access to new features, or exclusive content.
Engage and retain subscribers with user engagement and retention strategies like regularly updating content and communicating through notifications or newsletters.
Avoid hidden fees & clearly communicate subscription pricing, renewal terms, and cancellation policies to users.
It is important to carefully figure out the best app monetization platform or strategy that works for your mobile app. The best way to do that will be to team up with expert mobile app development companies in Kochi who can guide you to the optimum app monetization strategy and understand opportunities and possible issues from miles away.