The evolution of SEO or Search Engine Optimization is quite interesting! The changing technologies and user behaviours have had a massive impact on SEO ever since its inception. This article from Cedar Software Technologies, the premier Digital Marketing Agency in Kochi, explores the evolution of SEO from its early days to its current state.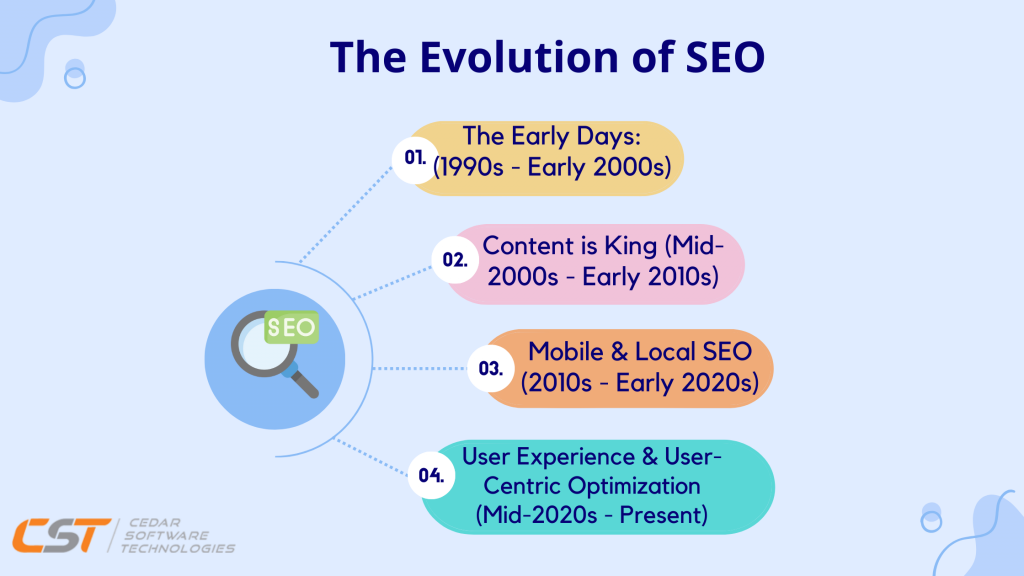 The Early Days: (1990s – Early 2000s)

SEO was quite elementary in its early stage where websites aimed to rank higher on search engines by stuffing as many relevant keywords as possible on their pages. Apart from that, webmasters used meta tags, hidden text, and other tactics to manipulate search engine algorithms.
Content is King (Mid-2000s – Early 2010s)

The introduction of PageRank and other Google's algorithm updates caused a major shift in focus towards content quality and relevance. "Content is King" became the new SEO mantra & high-quality, informative content dominated the websites. Blogs, online articles, backlinks, and content optimization for search engines became vital for SEO success.
Mobile and Local SEO (2010s – Early 2020s)

With the advent of mobile devices the focus came to mobile-friendly and responsive web design. Local SEO became essential as users turned to mobile devices to find businesses and services nearby.
User Experience and User-Centric Optimization (Mid-2020s – Present)

Nowadays SEO has shifted focus towards user-centric optimization as Google algorithms evolved to prioritise user experience, loading speed, and mobile-friendliness.
Key Trends in Modern SEO: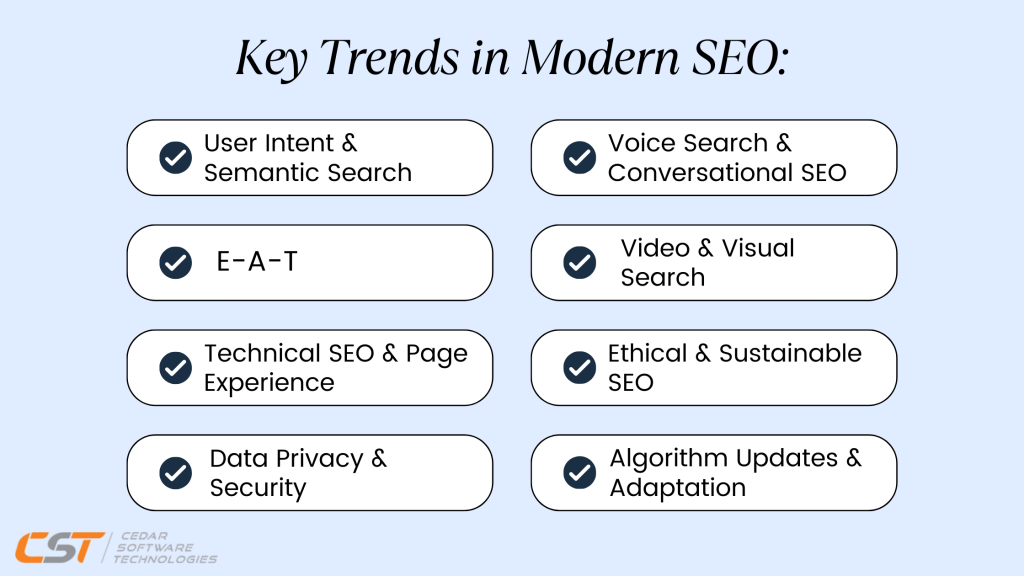 User Intent and Semantic Search
It's not just matching keywords but understanding user intent that is trending in modern SEO. Semantic search is used by search engines to deliver more accurate results by analysing the context and meaning behind queries.
Voice Search and Conversational SEO
Voice-activated devices and virtual assistants have made voice search a vital SEO trend. As users increasingly use voice search for quick, natural language-based queries, content optimisation for conversational queries has become essential.
E-A-T (Expertise, Authoritativeness, Trustworthiness)
While ranking content Google gives more importance to E-A-T. Websites that reveal expertise in their respective fields while maintaining trustworthiness and establishing themselves as authoritative sources are more likely to rank well.
Video and image optimization is a growing trend in SEO! YouTube and Pinterest have become popular search engines and optimising visual content is now essential for broader online visibility.
Technical SEO and Page Experience
Optimising website structure, page load times, and mobile responsiveness to provide a seamless user experience is now part of technical SEO that is trending now.
Ethical and Sustainable SEO
Modern SEO gives more importance to ethical practices and sustainability. Transparent, ethical approaches that prioritise user experience and compliance with search engine guidelines take the upper hand.
Data Privacy and Security
Websites that provide user data privacy and website security with user data protection and HTTPS encryption rank higher on search engines.
Algorithm Updates and Adaptation
Staying informed and adjusting SEO strategies according to the frequently changing search engine algorithm updates is essential to maintain rankings and visibility of websites.
Contact us at Cedar, the leading web design company in Kochi to know more.